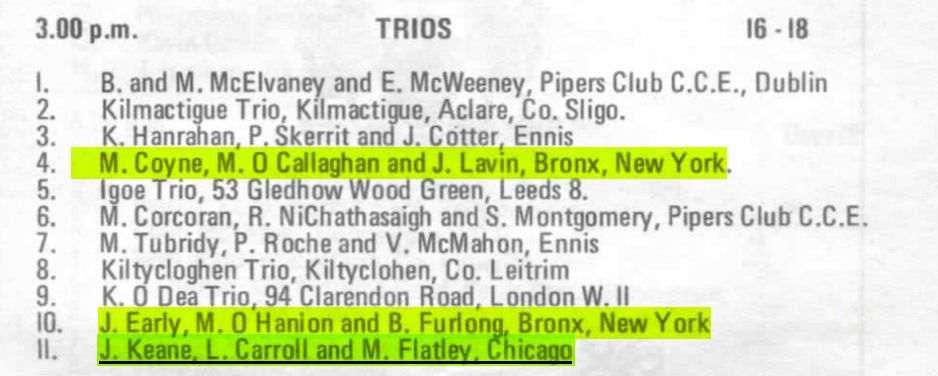 Came across this treasure from the past earlier this week. It is the program booklet for the 1974 Fleadh Cheoil in Ireland listing all the competitors who qualified to compete. I've highlighted all the competitors from the USA who competed that year -- it was the first large wave of Irish-Americans and Irish immigrants living in the US to return to compete in the music and singing competitions. There were two qualifying regional Fleadhs in the US: Chicago for the Midwest and New York for the East. First and Second place for each competition were eligible to compete for the All-Ireland to be held in Listowel, County Kerry that year on August 23-25
We "Yanks" were in 167 competitions (68 from the Chicago/Midwest Fleadh and 99 from the New York/East Coast Fleadh). You will see many names that you will recognize (from here and abroad) as many are still playing music and singing nearly 45 years later. Sadly, many have passed on to the mighty session in the sky.... 
It was also my first All-Ireland Fleadh Cheoil and the first of five wins in a row for me on the piano accordion (plus one Senior Duet with Liz Carroll which occurred in 1975). It was also my Dad, Jimmy "Horse" Keane's first Fleadh too. We are both listed as James. Hope you enjoy!!
Download or view the following PDF file: