Jimmy Keane & Liz Carroll
Liz Carroll and Jimmy Keane were raised in the storied Irish Music community of Chicago and steeped in the musical legacy of friends and mentors such as Johnny McGreevy, Joe Shannon, Eleanor Neary, and Cuz Teahan — who in turn, were inspired by Captain Francis O'Neill and his generation. Liz and Jimmy' were the first Irish-Americans to win the coveted All-Ireland Senior Duet title in 1975
Liz Carroll is an Irish fiddler, composer, and recording artist. She is the first Irish-American musician to be nominated for a Grammy, and the first American-born composer honored with the Cumadóir TG4, Ireland's most significant traditional music prize. Liz has toured as a solo artist and with the Greenfields of America, Trian, as the duo Liz Carroll & John Doyle, and with String Sisters – whose new album, Between Wind and Water, was just released. She is featured on thirteen albums and has appeared on many more, and her next album arrives this fall. Liz was born in Chicago of Irish parents, and still lives just outside her hometown.
Born in London of Irish parents, piano accordionist Jimmy Keane is an avid collector and arranger of old tunes and is becoming increasingly known for his original compositions. He has recorded and produced numerous albums. Many regard Keane as the premier exponent of traditional Irish music on the piano accordion and noted University of Limerick Professor, composer, and musician Mícheál Ó Súilleabháin praised Keane as the "savior of the piano accordion." eMusic described him as "one of the true giants of Irish traditional music of the past fifty years," and Christy Moore described Jimmy's playing as "wild and beautiful."

full bios:
lizcarroll.com/bio
jimmykeane.com/bio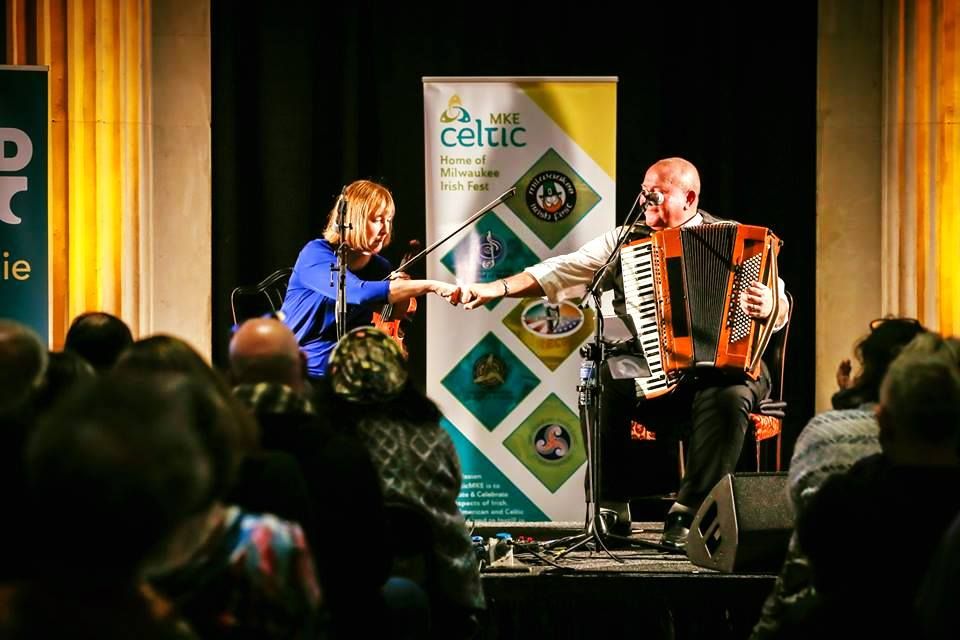 Tradfest shows what music can be 
Irish Echo 
February 6, 2019 
By Colleen Taylor

"What also makes Temple Bar TradFest remarkable in its use of Dublin's most historical and austere spaces, from City Hall to St. Patrick's Cathedral. These tourist attractions-turned-music venues were not just significant for aesthetic and acoustic reasons, but for symbolic ones as well. Two of Chicago's most accomplished traditional musicians, fiddler Liz Carroll and accordionist Jimmy Keane, played a fantastic set to a sold-out room in Dublin City Hall, and as I saw it, wrote new narratives over the building's structural history. Built in the late 18th-century and designed according to London's neoclassical trends, the Pantheon-like building projects imperial opulence, making it impossible to ignore Ireland's colonial past. But then, Liz Carroll and Jimmy Keane filled that massive dome with their charming Midwest accents, their superb tunes that came from the West of Ireland via Chicago, and wrote an optimistic epilogue over what that edifice represents, set the tune of a jig. The history of the space said these two humble, unpretentious, and utterly skilled traditional players did not belong there, but their lively music and livelier stories of Irish emigres in Chicago, echoing up through the dome, said they did. It was reverse diaspora, post-postcolonialism in its best form."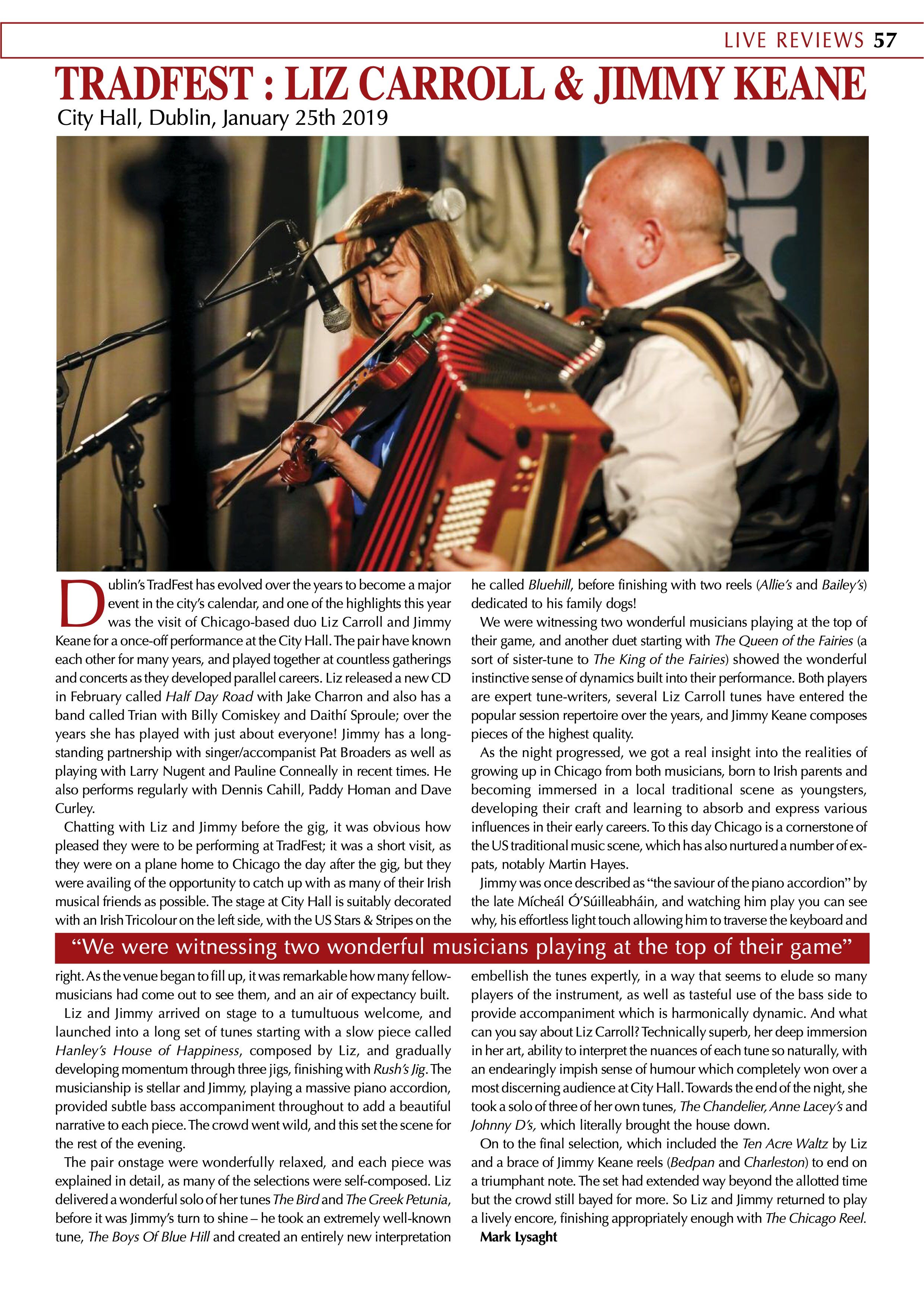 Tradfest: Liz Carroll & Jimmy Keane 
Irish Music Magazine 
Live Review by Mark Lysaght 
City Hall, Dublin, January 25, 2019 
Dublin's TradFest has evolved over the years to become a major 
event in the city's calendar, and one of the highlights this year 
was the visit of Chicago-based duo Liz Carroll and Jimmy 
Keane for a once-off performance at the City Hall. The pair have known 
each other for many years, and played together at countless gatherings 
and concerts as they developed parallel careers. Liz released a new CD 
in February called Half Day Road with Jake Charron and also has a 
band called Trian with Billy Comiskey and Daithí Sproule; over the 
years she has played with just about everyone! Jimmy has a long- 
standing partnership with singer/accompanist Pat Broaders as well as 
playing with Larry Nugent and Pauline Conneely in recent times. He 
also performs regularly with Dennis Cahill, Paddy Homan and Dave 
Curley. 
Chatting with Liz and Jimmy before the gig, it was obvious how 
pleased they were to be performing at TradFest; it was a short visit, as 
they were on a plane home to Chicago the day after the gig, but they 
were availing of the opportunity to catch up with as many of their Irish 
musical friends as possible. The stage at City Hall is suitably decorated with the 
Tricolour on the left side, with the US Stars & Stripes on the right. 
As the venue began to fill up, it was remarkable how many fellow-musicians 
had come out to see them, and an air or expectancy build. 
Liz and Jimmy arrived on stage to a tumultuous welcome, and 
launched into a long set of tunes starting with a slow piece called 
Hanley's House of Happiness, composed by Liz, and gradually 
developing momentum through three jigs, finishing with Rush's Jig. The 
musicianship is stellar and Jimmy, playing a massive piano accordion, 
provided subtle bass accompaniment throughout to add a beautiful 
narrative to each piece. The crowd went wild, and this set the scene for 
the rest of the evening. 
The pair onstage were wonderfully relaxed, and each piece was 
explained in detail, as many of the selections were self-composed. Liz 
delivered a wonderful solo of her tunes The Bird and The Greek Petunia, 
before it was Jimmy's turn to shine – he took an extremely well-known 
tune, The Boys Of Blue Hill and created an entirely new interpretation 
he called Bluehill, before finishing with two reels (Allie's and Bailey's) 
dedicated to his family dogs! 
We were witnessing two wonderful musicians playing at the top of 
their game, and another duet starting with The Queen of the Fairies 
(a sort of sister-tune to The King of the Fairies) showed the wonderful 
instinctive sense of dynamics built into their performance. Both players 
are expert tune-writers, several Liz Carroll tunes have entered the 
popular session repertoire over the years, and Jimmy Keane composes 
pieces of the highest quality. 
As the night progressed, we got a real insight into the realities of 
growing up in Chicago from both musicians, born to Irish parents and 
becoming immersed in a local traditional scene as youngsters, 
developing their craft and learning to absorb and express various 
influences in their early careers. To this day Chicago is a cornerstone of 
the US traditional music scene, which has also nurtured a number of ex- 
pats, notably Martin Hayes. 
Jimmy was once described as "the saviour of the piano accordion"by 
the late Mícheál Ó'Súilleabháin, and watching him play you can see 
why, his effortless light touch allowing him to traverse the keyboard and 
embellish the tunes expertly, in a way that seems to elude so many 
players of the instrument, as well as tasteful use of the bass side to 
provide accompaniment which is harmonically dynamic. 
And what can you say about Liz Carroll? Technically superb, her deep immersion 
in her art, ability to interpret the nuances of each tune so naturally, with 
an endearingly impish sense of humour which completely won over a 
most discerning audience at City Hall. Towards the end of the night, she 
took a solo of three of her own tunes, The Chandelier, Anne Lacey's and 
Johnny D's, which literally brought the house down. 
On to the final selection, which included the Ten Acre Waltz by Liz 
and a brace of Jimmy Keane reels (Bedpan and Charleston) to end on 
a triumphant note. The set had extended way beyond the allotted time 
but the crowd still bayed for more. So Liz and Jimmy returned to play 
a lively encore, finishing appropriately enough with The Chicago Reel.