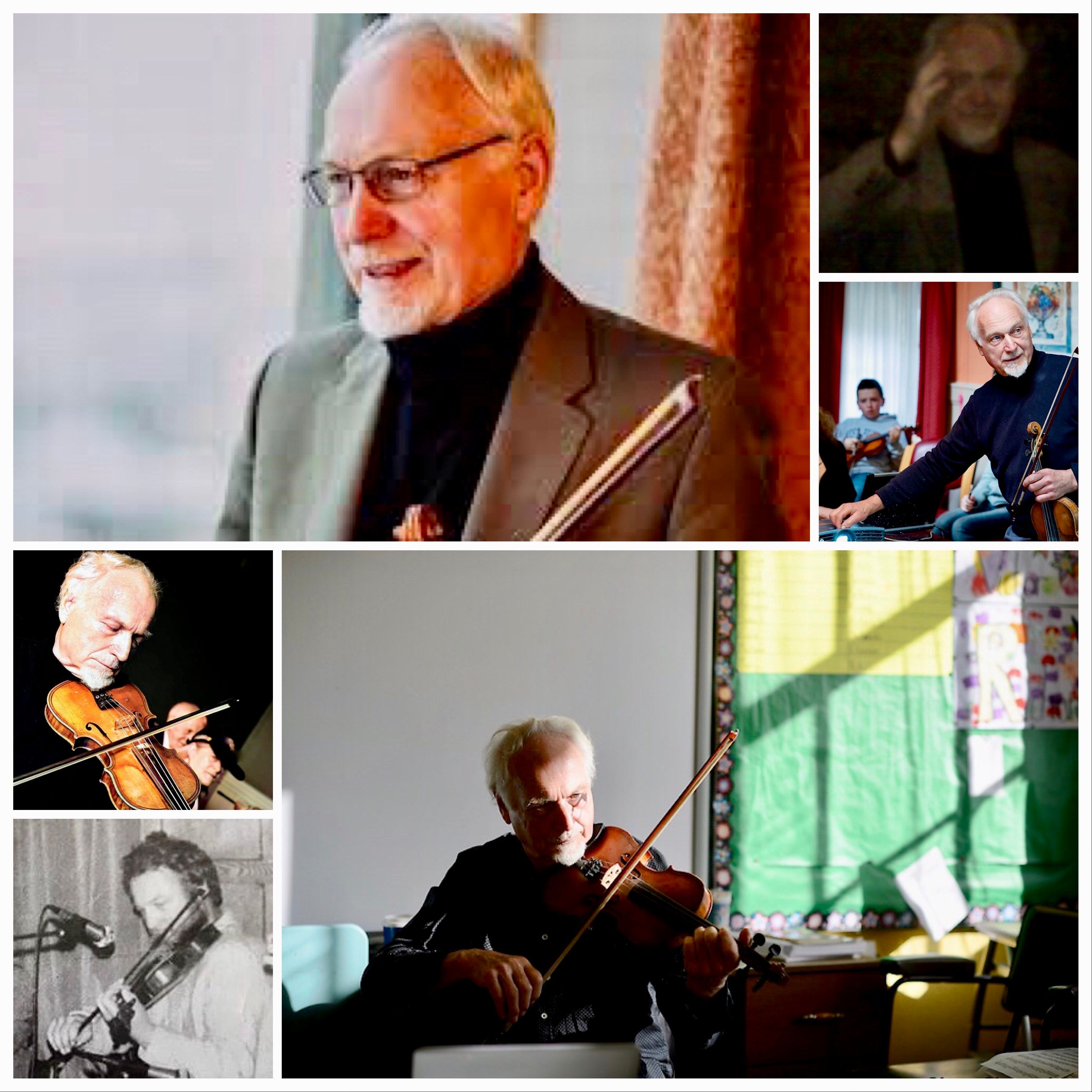 I was on my first solo trip to Ireland to compete in the 1977 Fleadh Cheoil in Ennis - after a successful Fleadh, I had a notion to head over to London for a long weekend before going back to Chicago to resume college. Even though I was born in London, I was only there for a few months before we moved back to Ireland so I never really was there. So I headed up to Dublin with fellow Fleadh goers Michael Flatley and Donny Golden, booked the ferry to Holyhead, and after a bon voyage rake of drink I landed onboard only to meet banjo player Mick O'Connor returning home to London. Travel partner was all set -- we even had a handful of tunes along the way -- although some tipsy box player played some interesting notes as I barely recall. But Mick was as gracious as he always is. Train to London where we parted with plans to meet later that weekend for some more sober-ish tunes. 
Met up with my uncle Mick, dropped the bag off, and within hours was standing in front of 7 King Henry's Road to meet the one and only Brendan Mulkere. My notion of a long weekend visit to London suddenly turned into a 12 month life altering experience for this 19 year old. 
That was 43 years ago and nearly to the day this past Friday in which we lost Brendan 
I vividly see the opening of the door to Brendan's flat and what I assume were walls, covered with boxes upon boxes of LP's from Shanachie and the same from his recently launched Inchecronin Records, books and more books and instruments stacked atop stacks of other stacks. Oh, there was what I thought was a bed. And I think I saw a tiny sink and even a smaller cooker. But it all didn't matter 'cause there was Brendan — this Crusheen cyclone whirling away thoughts, asking questions, ah-sure-move-that-and-sit, do you have the box — ahhh go get it — you'll join us at the shed tonite for a few tunes, how long will you be here? — ah no, that's too short — have a cup of tea — (shouting out to Mary Conroy - I didn't even see her at first), Mary, this is Jimmy — where did we put the cups… 
And that is how it began. 
I was treated as one of the family and it was indeed a large and joyous family spearheaded by himself. I can't recall a time when whipping around in Brendan's speedy Vauxhall that he did not know someone - whether in the music or not. I had never eaten anything aside from meats and spuds — Brendan introduced me to Chinese, Indian, and god-knows-what former colony sourced food — but it was brilliant. And wine. Yes, the wine. And millions of ales and lagers from the various brewery pubs — including Young's Winter Warmer (waste not, want not). And all those restaurants and pub landlords knew Brendan and he them. Just like family. It was fascinating. 
And the chats and discussions on any and everything. I never once missed my year away from college under the understated tutelege of Brendan 
But it was the music where it all came together. At that time Brendan was at the start of transitioning from a primary and secondary school teacher to a full time Irish Music Teacher and becoming a true life beacon for the music. Much like his dad, Jack Mulkere who taught and inspired the likes of Joe Cooley, Paddy Fahy, Tony McMahon, Kieran Hanrahan and hundreds of others back in Clare — Brendan did so in London and beyond with his one time "jelly babies" John Carty, John Whelan, Niall Keegan, Pauline Conneely, and countless others — even a yank named Jimmy. I think there were at least 700 students taking music from Brendan at the time in classes spread around the city and environs. I am sure I met them all at some point during my adventure when I helped him out with a few classes. Look, here's Jimmy from Chicago, He's going to play a few tunes and teach you a few of them… 
And of course the "real" moments for me was meeting and getting the chance to play music with not only Brendan, but with other Irish music icons Bobby Casey, Finbarr Dwyer, John Bowe, Sean McDonagh, Tommy McCarthy, Roger Sherlock, Raymond Roland, Danny Meehan, Alan O'Leary, PJ Crotty, Kevin Taylor, Liam Farrell, and dozens more — and never mind having a ton of musicians close to my own age as the earlier mentioned brilliant John Carty, along with Paul Gallagher, Mandy Murray, and of course, Mary Conroy amongst the multitudes. A more diverse musical family hard to imagine anywhere — but at home in London. 
Brendan made an unbelievable offer (and an honor for me) to record an album for him, with Mary on guitar. We did. I never released it. Shoulda woulda coulda. But I was stupid then and not much brighter now all these years later. Brendan was grand with it and so we planned a re-do in the near future… 
Music is a lot like life. You get a base of notes to work with but it is what you do with it that matters. Brendan didn't care if one played the Sally Gardens - but Brendan loved how you played Sally Gardens, and what variations you added, how you twisted and bent a combination of notes, how you shifted the phrasing. That is what I think Brendan taught and inspired in all his "jellies". Just like he did on whichever instrument he picked up and played. What came out was different and unique to Brendan. Just as how Brendan was truly unique to all others. I believe the mark of a good person is not what they do for themself, but what they do for others. In that regard, Brendan was truly a great person. 
I had a memory post pop up on Facebook from a couple of years ago noting that Friday August 28 was (now) Francis O'Neill's 172nd birthday. Just thinking of the impact Francis had on the music here and beyond through his collecting and preserving of Irish music and on Brendan's impact on the music through his teaching and fostering the growth of the music and its musical family in London and beyond. 
I'm going to miss Brendan without a doubt — but will always have what I learned from him and his endearing friendship still with me 43 years later. 
My deepest condolences to his "girls" - partner Sharon Coffey and daughters Claire, Collette and Sinead. Brendan's sisters Hilda, Florence and Frances, brothers Des and Enda — and to Brendans family of us everywhere — Rest In Peace dear Brendan…