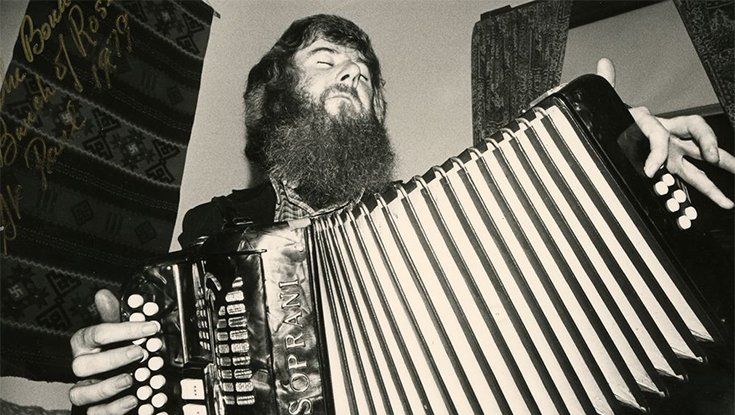 Talk of a surreal day on Saturday. I've been working on a 192 track audio project for nearly a year and am now about one-fifth the way through on the first draft of the liner notes. I ended my writing about 1PM after completing notes about a live recording of the Horse singing at a session in 1975 at Dorian's Bar in Buncrana at the All-Ireland Fleadh Cheoil. The session in question was with his (and my) friend Joe Burke who asked the Horse to sing a song. This is my description of what I got from the barely audible section of tape prior to the actual song: 
"There was the customary Irish ritual when asked to play a tune or sing a song which occurred before the Horse actually sang. Barely audible on the recording is Joe Burke coaxing him and the back and forth banter with Joe and the Horse "ah sure, maybe later" and "no one wants to hear a song anyway" to Joe "sing a song in Irish" to someone else "sing the Connemara Rose" and the Horse to Joe "I'll sing a song after this tune" and all those dance steps. Right before he sang, the Horse said "...let me put my back to the wall the way nobody will hit me" followed by a collective laugh then you can hear the Horse say "did I pick the right one? Just before he sang..." 
Had to run a few messages and got home an hour or so later to a damn roof ice dam which formed unnoticed in an unused back bedroom window. Just after Susie and I chipped the ice away outside the window, moved furniture, tore up carpet and padding, took the shite out to the garbage bins, started the drying process and saying to myself what else the F can happen today? 
Felt a buzz in my pocket from my phone, opened it to a text that Joe Burke had died... 
Heartbroken. I knew Joe for nearly 50 years and during all of them I stood in awe of his music, wit, humour, kindness, friendship, help, advice, and completely perplexed as to where did all the drink go and how can Joe still play like the one and only he is and he does without it having any effect? 
Joe stayed at the family home in Chicago several times over the years and he, the Horse, and myself would always get up to a bit of devilment with a ton of music and the odd song and the odd drink to cap it all off. 
It had been a few years since we had seen each other in person but we'd bounce back and forth a funny email or two. 
Last year our mutual friend Nancy Iverson asked if I'd take part in a tribute to Joe which I wholeheartedly agreed. I sent Nancy a couple of tracks of the Horse singing, a track of Joe from the first album I heard Joe on (A Tribute to Michael Coleman), a tune from Dennis Cahill and myself, and a bit of a stumbling mumbling spoken tribute to Joe from me to he. The text is below and the audio track of the same with a music bed of Joe is with the link below. It should be easier to share things, but Facebook you know...  
I should explain my sign off to Joe. Years back the Horse was barred from a pub. Short story a sing song began and the Horse called for quiet. The man behind the bar told the Horse he couldn't do that. A bit of an argument ensued with the end result being a recently purchased summer sausage from the local traveling pub salesman who sold everything from socks to, yes, sausages somehow ended up splattered upon the man behind the bar... 
I told that story to Joe who kept it with him from that point on. And when Joe and I were together, if a bit of awkwardness arose from a third party or someone was acting the bollix -- Joe would lean over and whisper to me: "If only I had a sausage"... 
I loved Joe Burke. My deep condolences to his lovely wife Anne, his extended family, and his multitude of friends. May the mighty Joe Burke rest in peace.
(Here is the text of the audio for the 2020 Tribute to Joe if you wish to proceed with either): 
Jimmy Keane of Chicago here. 
I first fell in love with the music of Joe Burke in 1968 when the late Mike Madden brought an album back from New York as a gift to my Dad, the "Horse" Keane (and to me) called "A Tribute to Michael Coleman" featuring Joe Burke, the late fiddler Andy McGann, and the late piano player Felix Dolan. 
At that point I was just a couple of years into learning to play the accordion — but even then, I knew all I wanted to play was Irish Traditional Music — and that wasn't going to happen under the tutelage of my pipe smoking German accordion teacher Mr. C. F. Marsh ;-) 
But fortunately we had a 4-speed turntable at home (78/45/33/16) which allowed me to slow down the LP down to 16 speed (from 33 1/3) and kinda keep it in the same key so I could catch all the rolls, triplets, and phrasing nuance which Joe did on his solo tracks from that "Tribute" album. It must have been a sight seeing me sitting at the dining room table with one of the speakers from the turntable set up on the dining room table along with me in a chair with my accordion and a big bath towel covering me, the box, and the speaker so I could hear what Joe was playing over the typical shouts and rants of a loud family. It worked — and Joe was my ghost teacher from then on! 
I finally got to meet Joe in 1972 when he came to Chicago with the first Comhaltas Ceoltóirí Éireann touring group to the states. In the meantime I had already devoured the second and third albums Joe had put out: "Sean McGuire & Joe Burke — Two Champions" with Josephine Keegan on piano; followed by Joe's first commercially released solo album "Galway's Own" once again with Josephine.  
I still hear and feel the majesty of the first notes he belted out of the "Bucks of Oranmore" into "The Wind that Shakes the Barley" onstage at the Bogan High School auditorium on the southside of Chicago that autumn. We became lifelong friends after that and Joe was ever encouraging me on the box and even recording some tunes on my then always handy cassette recorder — and at a slower pace so I wouldn't have to put a towel over my head to catch the sweetness of his style! 
Thank you Joe Burke for all the music, love, and laughter you gave and shared with me (and the late "Horse") over the last 50 plus years!! And if you are listening Joe: 'if only I had a sausage' xox