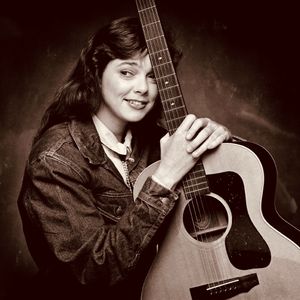 It's funny how things happen. Turned on the radio one Saturday night in the early 1980s to listen to The Midnight Special on WFMT in Chicago, one of my first baby steps away from round the clock diddly-diddly and sean-nos singing, and heard the unique and angelic voice of Nanci Griffith. I hadn't a clue as to what she may have been singing about that night but it didn't really matter as it had the same impact of listening to the Horse sing in Irish -- didn't know what he was singing about either but I felt the emotional impact as the sound of his -- and Nanci's -- voice notes smathered my ears with joy. 
Not that long after, I joined up with Mick Moloney and Robbie O'Connell and as we toured the States ended up one night onstage in Anderson's Fair, the early musical home of Nanci located in Houston. Side note: Never jokingly tell the emcee when he asks you how you would like to be introduced -- and the next thing you hear from the stage when you're standing behind the curtain: "...and Jimmy the Wanker..." 
It was March of that same year Mick, Robbie, and myself met Nanci at the Sanders Theatre in Harvard where we were all performing a benefit concert which some of the gig ended up on an album at one point with Nanci's song on the A side near the start where it rightfully belonged and our track on the B side not that far away from the spindle hole.
Hearing her voice and guitar command that space that night was gobsmacking and made me more a fan than my first time listening to her from the factory speakers in my Chevy beater at the time. Later that year, Nanci released her "Once in a Very Blue Moon" album which immediately found its way into my record collection nestled lovingly between the "Grand Airs of Connemara" and the Tulla Ceili Band's "The Old Claddagh Ring" 
Thank you Nanci for your music, your brilliant singing and songwriting, and for helping me along the way from my baby steps to giant strides. 
My condolences to your family and many friends and fans - May you rest in peace (but dance all night to the fiddle and the banjo)...