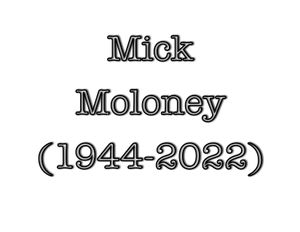 I was in New York City for six hours yesterday morning for the mighty service for Mick Moloney just blocks from where he lived the past many years in Washington Square and where he and I passed several times a few months back when I stayed with Mick for the week. 
Mick's sister Violet gave a beautiful family eulogy to his memory, and Mick's son Fintan was just like his dad and really did him proud. Cousin Deirdre Cronin spoke fondly of Mick and recited a glorious poem (which I must ask her to share) and of post cards sent from Mick afar... 
On the musical side, Big James Keane spoke of his long loving friendship with Mick starting in Dublin during the sixties and played a beautiful rendition of Anach Cuan along with Sonny Brogan's rousing version of Toss the Feathers.  
Right hand man to Mick, Dan Neely, spoke of the formation of their friendship and The Washington Square Harp and Shamrock Orchestra — and Mick getting Dan to play the banjo.  
Mick's early convert to the banjo, Seamus Egan, spoke glowingly of growing up in the music with Mick — and also growing up by default by the amount of time he spent in the Moloney home on Harvey Street in Philadelphia. And of banjo triplets — plenty of triplets, as was evident in the Maid of Mount Kisco reel (one of the first tunes Mick taught Seamus) played flawlessly by Seamus yesterday 
Liz Carroll gave a heartfelt tribute to Mick, and how he helped set her course as a professional musician as he did with so many of us through this music we all love. I was getting ready to play next so was in the hallway so I missed part of what all Liz was saying but kept popping my head back in and caught the end bit where she spoke of a set of reels she recorded with Mick on the first Cherish the Ladies recording — Miss McLeod's / Wissahickon Drive / Fermoy Lassies / Morse Avenue which included two tunes of Liz's pen — Morse Avenue and Wissahickon Drive (which Mick suggested she name the tune for the soon to be former name of the now Lincoln Drive in Philadelphia). Anyway, Liz recalled receiving a phone call from Mick in Ireland telling of this young kid at a session Mick was playing in who played that particular set of tunes. Mick said, it was great you played that Liz Carroll set — to which the kid responded — "Who's she???" — Loads of laughter erupted as you might imagine... 
I got super nervous before I went up and ended up balking on what I had written to say, so just blathered a wee bit and played two tunes for Mick — a slow tune I was working on recently which I played for Mick during our near two weeks together back in July which he liked — and the Waiting for Moloney tune I had written for him a decade back.  
I had posted the edited rehearsal video (got rid of all the cursing when I screwed up) of what I was intending to say on my website just for posterity — I've included a copy below if you'd like to hear it. 
I was back in the hallway as I had lost my seat in the main room when I left to play — so only caught bits when Athena Tergis spoke of her years as a duo with Mick and the very end when Athena recited one of Mick's favs — The Fiddler of Dooney.  
Followed by John Roberts speaking and then singing Across the Western Ocean along with Athena, Billy McComiskey, Liz Hanley, Brenda Castle, and Brendan Dolan. 
There were also some fine words and remembrances from Doris Meyer, Michael Beckerman, a very funny Billy Durkin, and Lenny Sloan interspersed with the music above. 
All in all it was what Mick loved — an amalgamation of every part of Mick's life and how he brought us all together forever. Rest in joy, Mickeen…
Jimmy Keane (September 30, 2022)