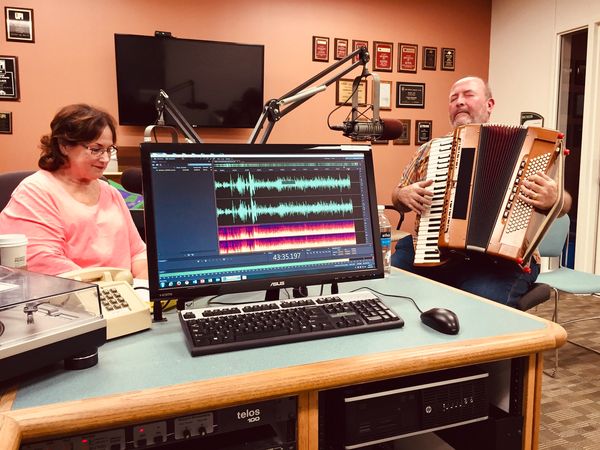 (Maryann Keifer & Me with picture by Grace Madden behind the desk)
Hi Folks!! 
Sorry to let you know that I won't be able to fulfill Maryann McTeague Keifer's wishes for me to assume the mantle of her "Ireland Tonight" radio show. 
I've been fortunate to be a fairly regular guest of Maryann and also the previous iterations with Bill Margeson, Shay Clarke, and the progenitor of Irish programming on WDCB, my old buddy Mike Fleisher back in the early 1990s on his "Treasures from the Isles" program 
I really enjoyed putting the first two full programs on with Grace Madden and the following four shows with Sharon Smith Iberle. 
I always harken back to Kevin Henry and Mick Moloney and our many individual conversations over the years that we really need to know the history of the music we play and the songs we sing – otherwise it's just diddley-diddley with a good beat you can dance to… 
So to those of you who stuck with me during my seven minute introductions to a 90 second track from the 1930s – thank you fellow trad nerds!! 
And of course, a mighty Thank You to all who have tuned in, especially the many ardent fans and supporters of Ireland Tonight who listened and checked in weekly on the shows page and will continue to do so in memory of Maryann — her show now gently nested in Sharon's loving hands. 
I'll be paying a few visits to Sharon in the upcoming months so you'll still get a chance to nerd out with Jimmy… 
Be well folks and please support your local public radio station — especially those with diddley-diddley you can learn from… 
And thank you for everything Maryann - we love you!! 
Hup!!