Hi Folks -- the best of the New Year to you! 
Just wanted to give you a sneak peek of a few upcoming shows: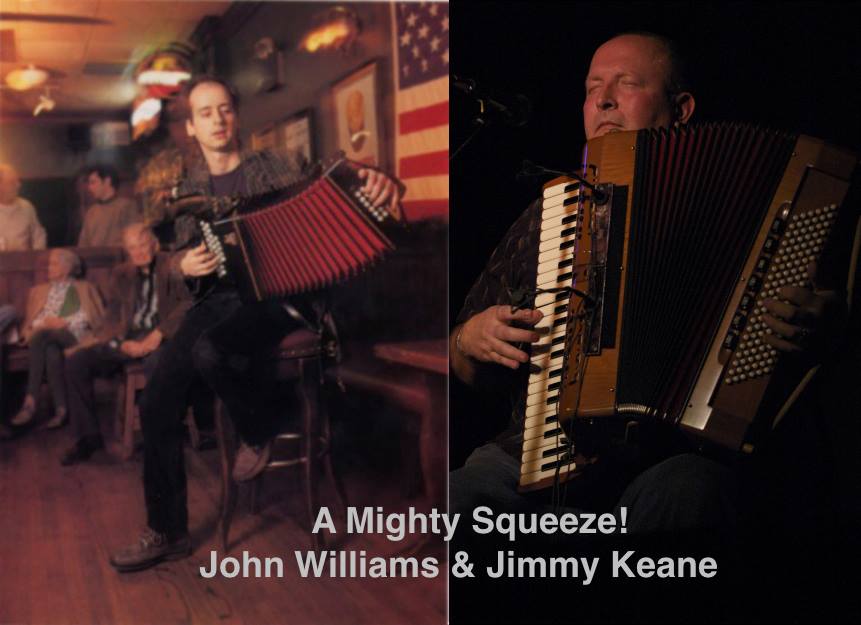 Longtime friend and fellow accordionist John Williams and I are reprising: 
We've three shows planned: 
Chicago
Saturday, March 5th
10PM TIckets Available
8PM (SOLD OUT)
Chief O'Neill's
3471 N Elston
Chicago Il 60618 
Tickets via our trusted online partner Brown Paper Tickets 
http://amightysqueeze2.bpt.me/ 
or by calling them directly: 800-838-3006 

------------------------- 
Milwaukee
Saturday, April 9th
8PM
Irish Fest Center
1532 Wauwatosa Ave
Milwaukee, WI 53213 
Tickets:
http://irishfest.com/Year-Round-Events/A-Mighty-Squeeze-Live-in-Concert.htm 
Please join us if you can!
Also, I'm honored to take part in the 100th Anniversary of the 1916 Easter Rebellion on Easter Monday, March 28th, at the National Concert Hall in Dublin along with Mick Moloney & Robbie O'Connell. Also scheduled for that evening are Rosanne Cash, Paul Brady, Maura O'Connell, Rodney Crowell, Andy Irvine, and Tim O'Brien. 
Thank you for your time and hope to see you soon! 
All the best, 
Jimmy Keane