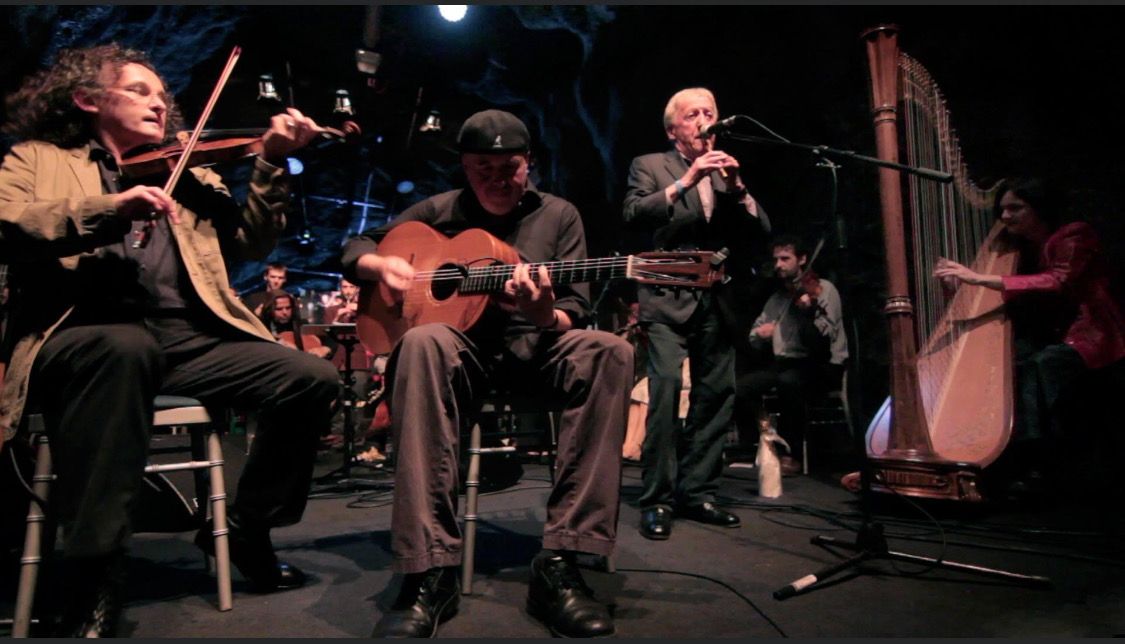 (Martin Hayes, Dennis Cahill, Paddy Moloney, and Triona Marshall on harp)
In less than one week after the passing of Tony MacMahon — Paddy Moloney, the legendary musical leader of The Chieftains died on Tuesday at the age of 83. What The Clancy Brothers & Tommy Makem did worldwide for songs and ballads starting in the late 1950s, Paddy Moloney did the same for the traditional music of Ireland starting in the early 1960s. 
In as much the way that I knew Tony, I got to know Paddy too — meeting him here in Chicago and at different festivals and concerts in the US and abroad. He was always charming, affable, witty, and had an instant recall of names and places. It would at times be like carrying on a conversation you had with Paddy two years prior! ;-) Aside from his obvious musicianship, musical arrangements, and production talents — he was unsurpassed in his business acumen — making The Chieftains as much a brand as it was a band of uber talented folks. 
Growing up learning this music (and I still am, mind you) there were two tracks from a couple of the early Chieftain albums which struck me and they are both my "go-to" whenever I think of Paddy and the lads (and ladies), so I've took a snippet of each in the video montage below. 
The Morning Dew is a reel — which I've struggled with since forever (Tullamore Dew, on the other hand, well, that's a whole different kind of struggle) — is from The Chieftains 4 album. The beginning of this track is what Paddy later used (with an updated version) as a score for the film "Ireland Moving" — and I tagged the second half or so with a bit of The Hunter's Purse from The Chieftains 3 album. When I think of lilting, 'tis the Hunter's Purse track which beams out… 
My condolences to Paddy's family, the Chieftains, his many friends and fans — Rest In Peace Paddy and thank you for the music…