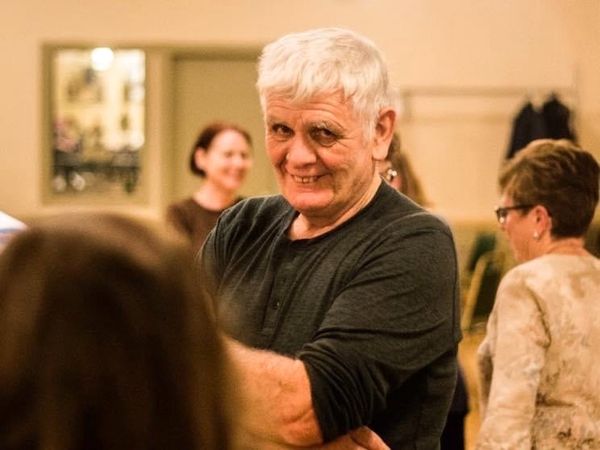 Another sad day in the Irish music and dance community with the sudden passing of Tony McLaughlin at 72 years. I was just with Tony a couple of weeks back on a Sunday night post Lanigans session -- he was in his usual mighty humorous form, codding, joking, and smiling away. I knew that smile and twinkle in his eyes since back in the early 1980's when Tony, myself, the Horse, and Tony's oft time dance partner Mickey Rahilly worked on a high rise in the city -- Tony the carpenter, with the Horse and Mickey as ironworkers, and me pretending to be one. 
But I got to know Tony far better through the various ceili's and set dances over the years in Chicago and beyond. And that look from Tony shared by Brendan Houlihan from a Tom Callahan photo -- I got that many a time when I played well for a particular figure and the complete opposite for those times in which I screwed up by playing too fast or too wrong (me playing polkas and slides - yeah, no) and messed up Tony's groove, steps, shoulder dips, and his plain old glorious dancing nyah... 
As Yeats' wrote: How can we know the dancer from the dance? Tony was the answer to that. 
My condolences to Tony's family and countless friends. May you rest in peace Tony and may all your heavenly sets be spot-on... 
Obituary: 
Edward Anthony "Tony" McLaughlin, born May 6, 1949 in Malin Head, Donegal, loving son of the late Edward and Catherine McLaughlin, passed away November 4, 2021, leaving behind his beloved wife of 47 years, Mary McLaughlin (nee Doolan).  
Tony was the devoted father of Finnuala McLaughlin (Dave Dobbins), Monica McLaughlin (Tim German), Michael (Gina) McLaughlin, and Kevin McLaughlin, the cherished grandfather of Connor Dobbins, Emmett Dobbins, and Corryn German, the caring brother of Mary (late Bill) Funchion, Sister Anne McLaughlin, Eileen (late Charlie) McLaughlin, Josephine (Tom) Boyle, David (Debbie) McLaughlin, Roisin McLaughlin, Sheila (Vincent) McGuire, James (Sheila) McLaughlin, and the late Patrick (Hope) McLaughlin, a loving brother-in-law, and an adored uncle of many nieces and nephews.  
Tony retired as a skilled carpenter of 33 years from the Local Carpenters Union 62 and he took great pride in building three beautiful homes for his family. During his retirement, he continued sharing his carpentry talents with friends and family alike, as well as spending his mornings and afternoons genuinely enjoying the company of the spirited high school students he proudly drove on his bus route.  
Tony was the "unofficial mayor" of the Chicago Gaelic Park and Kerry Associations, serving them where needed and enjoying the Irish community he loved so dearly. Tony was a gentle giant who would do anything for his friends and family. He was a force of nature on the dance floor and left a mark on all he met. Tony lived his life to the fullest every day and he will be deeply missed.  
Visitation Tuesday 3-9 p.m. Funeral Wednesday 9:00 a.m. from the Robert J. Sheehy and Sons Funeral Home, 9000 W. 151st Street, Orland Park, IL to St. Alexander Church, Mass 10:00 a.m. Interment private.  
In lieu of flowers, donations made to the Greater Chicago Food Depository, 4100 W Ann Lurie Pl, Chicago, IL 60632, would be appreciated. Please leave a memory for the family on Tony's Tribute Wall; your stories will bring comfort to the family. www.sheehyfh.com 708-857-7878 
To plant a tree in memory of Edward Anthony "Tony" McLaughlin, please visit our Tribute Store.