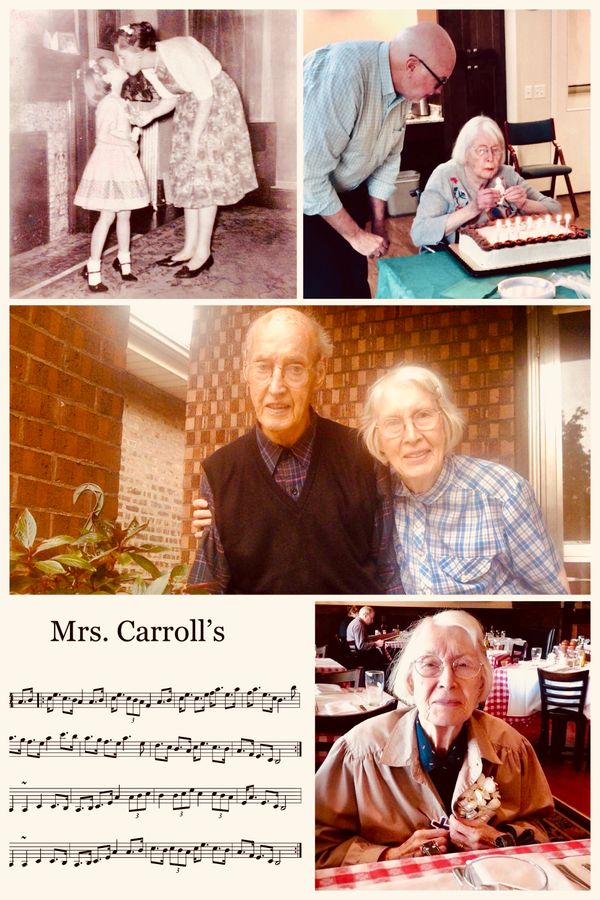 Eileen Carroll (1929-2021) 
And just like the tune Liz wrote for her mom which she named Mrs. Carroll's Strathspey — Ma Carroll — which is what I always called Mrs. Carroll in my mind — was the embodiment of those starting notes within that stately and loving tune (and one of my all-time favourites):  
Affable 
Beautiful 
Caring 
Elegant 
Charming 
Bountiful 
Adjudicator 
What say you? Yep, she was my adjudicator.  
During the early years of playing music and eventually entering competitions I would not do so without Ma Carroll's approval of my tune choices. She had this uncanny knack of knowing what worked with a tune and how it was presented and how well one played it (and in my case how unwell I often did). Most times she didn't have to say a word — I could sense the expression on her face even with my eyes closed when I was playing.  
What about this tune then, Mrs Carroll? 
[I played another tune...] 
Well, Jimmy, that is so much better — go with that one — you'll have a bite with us now… 
At the end — If it was approved by Ma Carroll — no other opinion mattered whether it be a fleadh judge in Chicago or one in Ireland — and she never failed in her choice nor did I because of her. 
I am ever grateful for all those who were ahead of me (and us) who were our personal guiding hands, eyes, ears, and hearts — just like my folks were and my musical mentors just over the past year and a bit we all lost: Joe Burke, Kevin Henry, Brendan Mulkere, and now, Ma Carroll.  
Reach out. Help someone in any manner. I'm glad they did and glad I do… 
My love and condolences to my dear Liz, Tom, Alison, Patrick, Charles, Ralph, and the many brothers, sisters, in-law versions of the same and the endless supply of nieces and nephews (at last count there are enough of all varieties of relations to apply for statehood) of Eileen Carroll.  
I'll sneak in that tune of Liz's for you on Tuesday during mass and await the results. Rest in peace Ma...