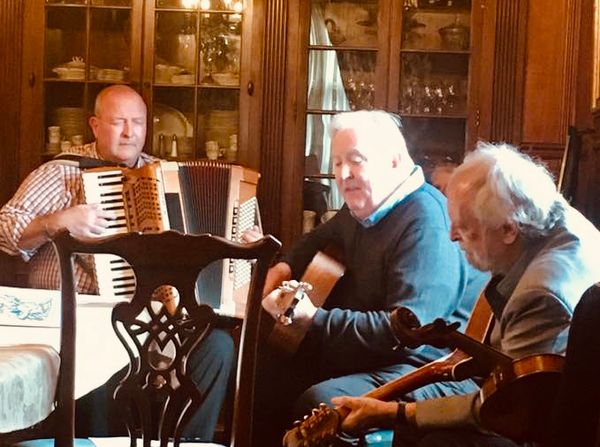 I think that Mick Moloney — the most eloquent and articulate person I've 'ere known — would get a good chuckle that stumbling bumbling me ended up giving a few pre-tunage remarks about himself at The Scattering this past Sunday at the Milwaukee Irish Fest. 
It was an honor to be with Liz Carroll, Eileen Ivers, Rory Makem, Dónal Clancy, and the rest of the gang of musicians, singers, dancers and fellow banjoists in paying tribute to Mick. Special thanks to Barry Stapleton for putting it all together and setting the stage. Here is to you Mick...
(please note: audio starts about one minute in and video 15 seconds later - it was a live stream..)
Full text of my comments:
This weekend last year myself and Mick Moloney opened the tribute concert to Irish Fest founder Ed Ward. It is hard to fathom that we are now taking part in a tribute to Mick. 
I've known Mick since 1975 when he first arrived in Chicago to do field research on Irish Music.  
We became instant friends and played music, recorded, toured, chatted, sang, ate, drank, argued, and lovingly enjoyed each other's company ever since that first day until Monday, July 25th when I dropped Mick off at his Greenwich Village apartment after the two of us spent 12 glorious days in New York and Maine doing what we've always done – aside from the drinking bit — which was replaced by several vegan meals… (somehow not quite the same)... ;-) 
We said our goodbyes, shook hands, said we'd chat later and then I continued my drive home to Chicago.  
Mick passed later that evening… 
His influence and mark on Irish music is indelible - especially in the US – and of course here in Milwaukee at this Irish Fest. 
We'd like to play a few tunes and sing a few songs for you — which Mick enjoyed and remind us all of him. 
As a proud Limerick man who witnessed Limerick win the All-Ireland in Hurling the week before he passed, we begin with the gorgeous air: The Lament for Limerick in honor of Mick 
Followed by a couple of jigs: 
The first was written by the late Cavan native & Philadelphia's resident fiddler and composer, Ed Reavy which Ed named "Both Meat and Drink"   
Mick was a huge champion and supporter of Ed Reavy and his music.  
We'll follow Ed's lovely tune with a jig I wrote for Mick several years ago which I named: "Waiting for Moloney"  
It's based on Samuel Beckett's "Waiting for Godot" which is about two lads awaiting the arrival of some fella named Godot.  
In my early days of touring with Mick and Robbie O'Connell — we'd arrive at the destination airport – would gather the bags, instruments, boxes of records from the baggage carousel – and without fail – we'd watch with amazement as Mick would open one of his checked bags, toss the clothes, shoes, cassettes, bottles, books, and god knows what else, all about the concourse floor while looking for his address book and the contact information for the gig, car rental, and hotel.  
He'd then disappear in search of a payphone. 
And Robbie and I would park our behinds on the nearest bench surrounded by the baggage and wait.  
And wait.  
And wait.  
Thankfully, Mick – unlike Godot – would eventually show up… 
Love you Mick!  
We'll be waiting for you…