(Full Disclosure: I currently work with Martin Hayes and Dennis Cahill as the music publishing administrator for Martin and as Dennis' music publisher under my music publishing company Cappal Beag Music. I also am Dennis' personal manager although he does not need much of that...)
But, I am a music lover above all and I PURCHASE (although I do receive a lot of complimentary copies) and repeat again that golden word, PURCHASE as many of the new trad CD's/downloads/Vulcan digital audio mind transfers that are available both here and abroad...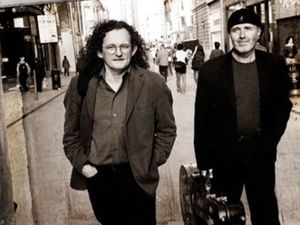 Welcome Here Again (GLCD 1233) on the revamped Green Linnet Label is Martin Hayes and Dennis Cahill's long awaited newest release. I was fortunate to hear bits and pieces of the work in progress over the past several years as well as several renditions of the "final" mixes and master (done with considerable care by mastering engineer Charlie Johnson (plug-plug) who also (plug-plug) did the recent bits of bohola series of releases.
All biases aside, this is one brilliant recording.
My current favorite track (and has been since hearing for the first time -- when it completely gobsmacked me) is Martin's powerful and moving rendition of The Dear Irish Boy. Not something that will be fully appreciated while driving with the windows down, but definitely a soulful experience in a quite room with a good set of headphones or speakers.
Dennis plays a larger tune playing role on this recording with the addition of the mandolin, part of the extended lute family (and second cousin twice removed from the upright bass, except really, really, really, smaller).
[Note: I have a running joke with Mick Moloney for years over the mandolin, refusing to even call it a musical instrument (but freely calling it other things). At a concert in Davis Elkins College in Elkins West Virginia, I was coming off stage carrying my instrument along with Mick's mandolin since he was still onstage announcing the next group. There was a covered grand piano backstage. It was dark. I placed the mandolin gently on the piano, except it was the curved part of the grand which does not have a part on which to place something. CRASH!!! Mick and the whole audience hushed. But alas, no mandolin was harmed in that incident nor in the writing of this blather. Needless to say, I no longer carried Mick's mandolin -- instead, I would just kinda kick it (kindly) along the floor...]
My fave track at present featuring Dennis and his toyolin, I mean, mandolin is P Joe's Reel, titled after Martin's late Dad, fiddler P.J. Hayes. Dennis really has that Clare thing down on this track and on the mando to boot!
All joking aside, this duo has truly evolved musically from its excellent beginnings as Martin with Dennis to Martin and Dennis.
Another interesting development on this recording is the turning back of the time clock and resurrecting the single form (one tune per track) on most of the album. In early days of recording, this was the de facto standard as the physical time constraints of wax cylinders and 78 records were about two to three minutes (although even some artists back then combined a couple of tunes into the one track).
I have been a life long proponent and practitioner of the "long form" (combining several tunes into one track/performance; or as we do in bohola, combining multiple songs and tunes into the same track/performance set); so has Martin & Dennis in past recordings and in live performances. I am not sure what the actual intention behind this shift was/is, but I venture that it is just the natural progression (or maybe it is just our ever shortening attention spans). Whatever the reasoning, and considering the proliferation and availability of single digital downloads, it came at an appropriate time. And I do like it very much -- the notion of just exploring the one tune and then create an overall musical smorgasbord of tunes throughout the entire recording.
[Note: There is also a music business ramification of using this method. If someone recorded a track with several tunes combined which were composed by someone other than the artist as in this example: Martin/Dennis record a track which contains a Liz Carroll tune & a Jimmy Keane tune & a Charlie Lennon tune. At the current rate for statutory mechanical royalty licensing in the US, Martin/Dennis (or in this case Green Linnet) would have to pay each of the above $.091 (a total of $.0273) from that particular track. Considering that Green Linnet would receive approximately $.70 from Apple iTunes for the $.99 sale on the track (or even less if Green Linnet were using a third party digital aggregator which supplies iTunes, Amazon, eMusic, etc with the digital downloads), that does not leave very much to pay artist royalties (usually applied to any recording advance the artist receives), marketing, distribution, overhead etc. More on this subject on another blather...]
Martin & Dennis also took full advantage of the studio this time and created multiple layers and used a variety of instruments on each track including Martin on viola and Dennis on aforementioned "weeolin" and guitar bass.
If you purchase only one recording this year (aside from all the bohola recordings you may not have...) Welcome Here Again is THE essential add to the Martin Hayes/Dennis Cahill library:
Martin Hayes (Martin without Dennis)
Under the Moon (Martin without Dennis)
The Lonesome Touch (Martin & Dennis)
Live in Seattle (Martin & Dennis )